Lancaster LL861 - 101 Squadron
Among my mum's photos from the time she was at RAF Binbrook with 460 Squadron were two showing Don Irving, one (left) of just Don, dated 17/2/44, enscribed "To Rene, love Don" and another of six of the crew (below), signed by each of the seven crew to "Inky", her WAAF nickname.
These were obviously Aussies and I made the assumption that this was a 460 Squadron crew that she had known from Binbrook.
Hunting through the 460 Squadron crew lists I could find no trace of Don Irving though, so widened my search.
Looking through the posts at Len Smith's WWII Ex-RAF site (now sadly defunct) I found a post looking for word of John Bede Newman, who died on the ill fated raid on Nuremberg on the night of 30th and 31st March 1944. Realising that the crew was one of those in my Mother's pictures. I contacted the email in the post but was told that Bob Moffat, who had asked tfor the information, had sadly passed away just before. This did solve the mystery of who Don Irving and his crew were and what had become of them.
"Irvo the Great"
The picture on the right is dated 7th February 1944 and enscribed on the back from the Irving crew as follows:
"The 'Rose' this time is George King"
This is the first time I have been 'left Standing' - John Newman
"Mines a light Inky, in a glass - John Noske"
"Best wishes - Norm Huggett"
"Bottom left, the modest good looking lad is Frank Phillips"
"Sorry I missed out, all the best - Wally Adam"
"Last but not least - Irvo the Great - Luv Don Irving"
Having discovered who the men were I rooted through the various resources available to find what had happened to them.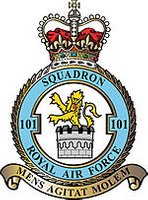 101 Squadron was part of 1 Group based at Ludford Magna in Lincolnshire, and was tasked with flying Lancasters equipped with an early version of "electronic counter measures" known as ABC or "Airborne Cigar". This was a radio jammer, using an 8th crew member, a specialist wireless operator, to monitor and then jam the frequencies used by German night fighters. As a result of this, the squadron aircraft would fly spread along the bomber stream on missions and would be tasked to fly more missions than any other Bomber Command squadron.
The BBC History website carries the reminicences of one ABC operator, Pilot Officer Sam Brookes, here.
The Australian War Memorial has a fabulous picture of the crew taken in 1943, reproduced below, (original here) and a picture of Norman Huggett in training (original here)..
The below description of this picture is also from The Australian War Memorial:
Informal group photo of some of the crew of 101 Squadron RAF Lancaster LL861 SR-H. The aircraft was shot down without survivors by a Messerschmitt 110 night fighter on the night of 30-31 March 1944, on the outward flight of a bombing mission to Nurnberg. SR-H was one of the aircraft in the bomber stream tasked with ABC duties. ABC , short for "airborne cigar", was radio jamming equipment designed to disrupt enemy night fighter communications. From left: 426999 Flight Sergeant (Flt Sgt) John Bede "Jack" Newman RAAF; 427016 Flt Sgt John Alfred Noske RAAF; Sgt Frank Phillips RAF ; 420950 Pilot Officer Donald James Irving RAAF; 413771 Flt Sgt Norman Huggett RAAF ; 412542 Flt Sgt George King RAAF; (in front) Flt Sgt Walter Joseph Adam RAAF. Absent from photograph is Flying Officer R F Litchfield, RCAF.
In a letter to his sister Ellen and her husband Mick, written in August 1943, Flt Sgt Norman Huggett described some of his fellow crew members: "The pilot, Don Irving, hails from Bondi - nickname Shorty, for obvious reasons, and like most "shorties" talks ceaselessly from dawn till dawn; the blackout fails to dampen his good spirits. George King, our navigator, looks down on us from 6 feet odd and once again for obvious reasons, and he does not suffer from B.O., his nick name is "Stinker". The bomb aimer, John Noske, the baby of the push, and Wal Adam our gunner are two of the quietest chaps I ever met but they're good cobbers all of them and stick like glue or something to a blanket. There is only one disadvantage with our team, from my viewpoint and that is that I am the only smoker amongst them and when on those rare occasions, as Ellen will verify, when I do run short I have no one to "borrow" off. However, we see eye to eye over most things, we enjoy our outings together and more important we turn the pace on with our work. Being the eldest by a few months I'm the Daddy of the team, but that position has no privileges nor responsibilities so I don't mind."
The Nuremberg Raid
Don Irving and his crew were lost in the ill fated raid on Nuremberg. The seven regular crew were joined on the mission by "specialist" F/O Ralph Litchfield, RCAF, who would have been responsible for the ABC equipment.
The attack on Nuremberg was the last fateful act of Bomber Harris's "Battle of Berlin", an attempt to destroy German morale by battering it's cities night after night before the bomber force turned its attentions to preparing the way for D-Day in June. The raid, on the night of the 30th March 1944, was a major disaster for Bomber Command with 95 aircraft, 11.9% of the force, shot down as a clear moonlit night turned the raid into a turkey shoot for German fighters, 82 aircraft were lost before they reached the target. The loss was the worst suffered by Bomber Command on a single raid during the whole of WWII.
The raid, and the various cock ups made before and during it are still the subject of a lot of discussion still and a number of books including the definitive one by Martin Middlebrook..See also a recent Daily Mail article published on the 70th Anniversary of the raid here. More aircrew were lost in the single raid on Nuremberg (545) than in the whole of the Battle of Britain (498). That raid was, by coincidence, my Father's first operational flight, the aircraft damaged by incendiaries dropped by another aircraft and attacked by a night-fighter before they got home safely.
Don's Irving's aircraft was not so lucky, and was shot down over Lauterbach, about 40km north east of Frankfurt and about 200 kilometers short of Nuremberg. The aircraft crashed in forest and only two of the men aboard could be identified, John Newman and John Noske being buried in Berlin War Cemetary. the others have no known grave and are commemorated at the Runnymede Memorial.
The crew of Lancaster Mk I, LL861, took off from Ludford Magna at 22.11 to attack Nuremberg. They were due to return at 05:45 but nothing further was heard of the aircraft. After the war it emerged that they had been blown well off course by strong winds and were shot down by a German Me110 night fighter (possibly flown by Hauptman Gustav Tham [Chorley], or Hauptmann Heinz-Horst Hissbach [Boiten]) prior to reaching the target. The Lancaster exploded, scattering debris over a large area near the German town of Lauterbach and killing all eight of the crew, who were on their 9th operation.
The aircraft squadron markings are given as either SR-H or SR-U depending on source. The editor of the 101 Squadron Association website stated "As to the identity of the Lanc, it almost certainly didn't carry the code SR-H as another Lancaster with this code flew on the mission and also went on to survive the war with 121 Ops. The SR-H for 861 ident comes from an incorrect entry in the 101 Sqn ORB. It was a brand new Lanc on its first Op and may not have been entered correctly in the books or painted up yet."
Compiled from the Commonwealth War Graves Commission, and the lists at Aircrew Remembered.
IRVING Donald James - Pilot -.420950, Pilot Officer Royal Australian Air Force, died 31st March 1944. 101 Squadron, RAF . Age 26, son of Oliver Thomas Irving, and of Florence Helena Irving, of Bondi, New South Wales, Australia. Commemorated at Runnymede, Panel 258.
PHILLIPS Frank - Flight Engineer - 1581809, Sergeant, Royal Air Force Volunteer Reserve, died 31st March 1944 101 Squadron. Age 20, son of Frank and Mary Ann Selina Phillips, of Harborne, Birmingham. Commemorated at Runnymede, Panel 236
KING Stanley George Richard - Navigator - 412542, Warrant Officer, Royal Australian Air Force, died 31st March 1944 101 Squadron, RAF. Age 23, son of Thomas Stanley Gordon King and Emily Marjorie King, of Lithgow, New South Wales, Australia. Commemorated at Runnymede, Panel 259.
NOSKE, John Alfred - Bomb Aimer - 427016, Flight Sergeant, Royal Australian Air Force, died 31st March 1944. 101 Squadron. Age 21. Grave 14. F. 14. Berlin 1939-1945 War Cemetary.
HUGGETT Norman Grenfell - Wireless operator - 413771, Flight Sergeant Royal Australian Air Force, died 31st March 1944 101 Squadron, RAF. Age 27, son of Arthur and Lucy Jane Huggett; husband of Joan Huggett, of Young, New South Wales, Australia. Commemorated at Runnymede, Panel 260.
NEWMAN, John Bede - Air Gunner, Mid Upper- 426999, Flight Sergeant, Royal Australian Air Force, died 31st March 1944. 101 Squadron. Age 20 Grave 14. F. 15. Berlin 1939-1945 War Cemetary.
ADAM Walter Joseph - Air gunner, Rear - 410934, Flight Sergeant, Royal Australian Air Force, died 31st March 1944 101 Squadron RAF.Age 25, son of John James Adam and Violet Pearl Adam, of Bundalong South, Victoria, Australia. Commemorated at Runnymede, Panel 259
LITCHFIELD Ralph Frank - Mission Specialist - J/25734, Flying Officer, Royal Canadian Air Force. Died 31st March 1944 101 Squadron. Age 27, son of William and Magretta Litchfield, of Burnaby, British Columbia, Canada. Commemorated at Runnymede, Panel 247
The 156 Squadron website carries pictures of a ceremony commemorating the crew at the crash site near Lauterbach on the 65th anniversary of their death and a list of the nine missions flown by Don Irving and his crew here.